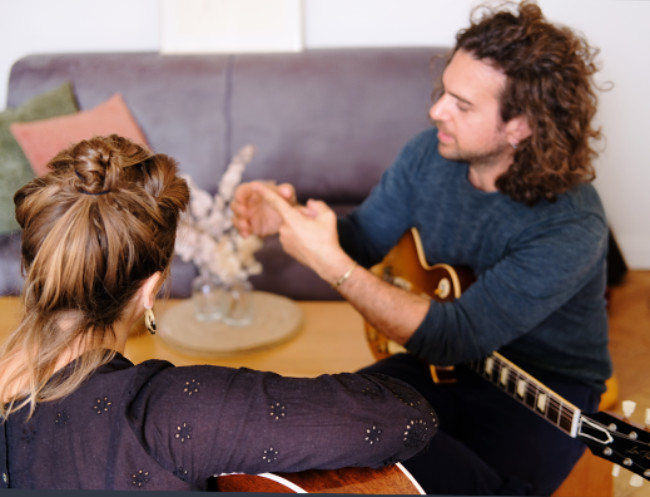 « Music has healing power, it has the ability to take people out of themselves for a few hours » – Elton John –
Why do we "play" an instrument? For me the answer is clear, we are here to have fun, to experiment. Like a child plays with toys and explores, totally immersed in the moment with zero self-judgment. He knows, by instinct, that in order to learn he will try and fail, all he needs is a bit of guidance and support !
Since I started teaching, my approach has greatly evolved. Today, after years of experience, I know – it's a journey we take together. In order for me to be the best teacher for you I need to discover what inspires you, where you excell naturally and where your challenges lie. We will be using songs and styles you love to explore techniques and theory. I use my intuition and experience to tailor the lessons to your desires and needs, while supporting and inspiring you to dive deeper.
Acquiring a new technique is exciting, it opens doors to new perceptions, helps you build new habits and become aware of old ones that might hold you back. During our sessions, I will encourage you to pay attention to your posture, body and mind, as well as to focus on playing with intention. You will gain confidence, connecting to a place of self-belief, which I believe is a key element in playing guitar – and in life!
I care about creating meaningful connections, it is at the core of our human needs. It's important for me that my students come with a smile, eager to learn and leave with an even bigger one, satisfied and motivated!
PRICES AND INFORMATION
I teach in Nice and the immediate surroundings as well as online (Zoom, Skype etc.)
1 HOUR LESSON
At your place : 45€
In a studio : 50€
Online : 40€
Longer lessons are available,
contact me to discuss your needs.
3 HOURS WORKSHOP
A customized session to dive deeper into your practice.
Themes include : Technique\speed development, music theory, genre-specific exploration,
body and mind awareness while playing, band coaching, songwriting…
Individual
At your place : 100€
In a studio : 130€
Group (up to 4 people)
In a studio : 250€
GEAR AND SOUND EXPLORATION – 2 HOURS
All about amplifiers, effect pedals, and how they work together.
Lets create your own unique sound!
At your place : 100€
In a studio : 120€
– Gift cards are available upon request –
All ages and levels are welcome.
Lessons are in English or French.
Feel free to contact me for more information.